Everything you needWhat sets us apart
EXCEPTIONAL CUSTOMER VALUE
Expect your parts on time when you need them and at the lowest cost.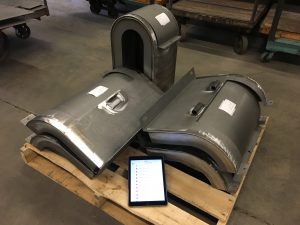 Ipads used to link production, planning, drawings, job tracking, quality control, and production equipment.
Yellow exciter guards for gold, iron ore and coal mine screening machines.
Fabrications used by military, intelligence and security organizations.
DESIGN FOR MANUFACTURABILITY (DFM)
Seventy percent (70%) of manufacturing costs are determined by part design decisions. Our DFM input ensures that your parts are most easily and economically manufactured.
FAST & FLEXIBLE
You've made a design change in your metal fabrication and your production schedule has been compromised. You can count on us to rearrange our production schedule, make your revisions and keep you on track.
What we doMetal fabrication services
CNC Laser Cutting
CNC Punching
CNC Forming
Shearing
Welding
Powder Coating
Prototype to Medium Run Size
Engineering Design Assistance
See the diferenceWhy work with us
Our customers compete in a tough manufacturing world. They expect us to minimize fabrication costs and give them exceptional value for their manufacturing dollar and we do it. At Charles Mfg., attention is paid to detail, quality is unsurpassed, turnaround is fast and costs are closely controlled. This is the way we maintain long-term customer relationships.
We promise metal parts that "fit" and service that is second to none!
Find usGET IN TOUCH
Call us anytime
330.395.3490
Our headquarters
3021 Sferra Avenue NW, Warren, OH 44483